News

24-Nov-2017- Regina, Saskatchewan
Solar power's popularity is on the rise in Saskatchewan
Jim Harding's house overlooks Echo Lake from its place atop a hill at Fort San, just a couple of kilometres northwest of Fort Qu'Appelle. Atop isn't totally accurate, actually.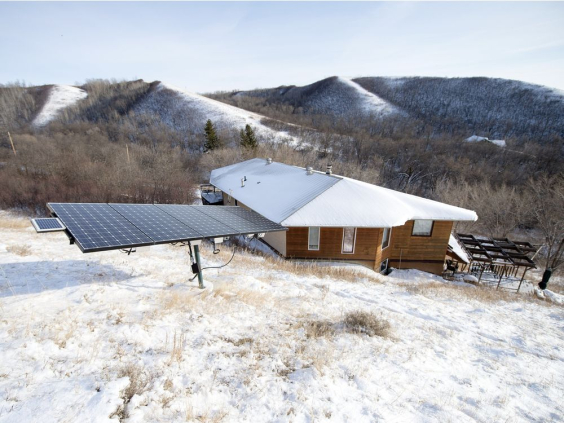 Harding's house of wood and concrete is built within the hill. One of three storeys is visible from the 160-year-old fur-trade trail immediately behind the house. Five solar panels are set up behind that, and a 35-foot wind turbine is further beyond.
After decades of consideration, the house was built in 1998 in this resort village.
Unlike most homes in Saskatchewan, this one lives up to the word "insulate," keeping heat in rather than keeping cold out.
As sun filters through 48 triple-paned argon windows, the efficiently insulated house retains its heat. Hot water pumps through the tiled floor and a well-planned system of fans circulate warm air through the house — warmed from passing through a channel six feet underground, or simply from a fire lit in the wood stove.
"You reduce your need for energy by how you construct the dwelling," said Harding. "There's no furnace in this house, no air conditioning. We have a hot water tank off natural gas … that's it, 25 gallon hot-water tank."
Harding's house was built for efficiency. And, since 2012, it has been almost totally powered by wind and solar.
He installed the wind turbine and solar system for about $25,000.
Even in the five years since, costs have come down to invest in the technology.
Now others are following suit.
In Saskatoon, the Saskatchewan Environmental Society started a solar power co-op in 2014.
In Regina, about 100 people packed the Artful Dodger for the Regina Solar Co-op's first meeting in late October.
The Regina co-op's plan is to use group buying power to bring down solar panel installation costs before SaskPower's net metering rebate program expires next fall.
Unlike Harding, who employs green power for the environmental benefits, the co-op sees an economic benefit to solar power.
"This is not a fanciful kind of far-off tree-hugger thing. This is being driven by some real clear economic imperatives and this is happening all over the world," said Stephen Hall, a leader of the Regina co-op.
"The reality is it makes economic sense; profoundly it makes economic sense."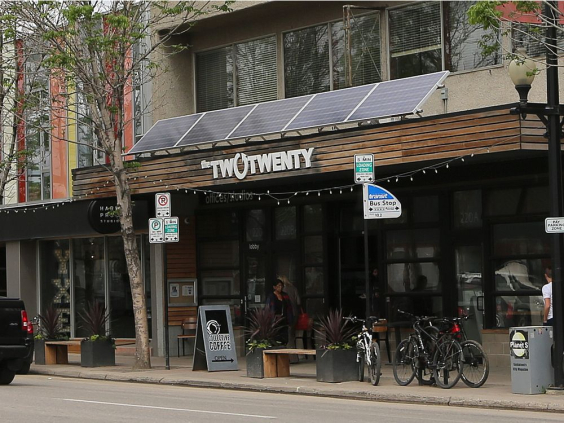 When the Saskatoon co-op began almost three years ago, with an IndieGogo crowdfunding campaign launched in December 2014, it pitched a "financially viable solar power co-operative."
"It's I guess a first for here, even though it's been happening around the world and other provinces for quite a while," said Jason Praski, a professional engineer, one of the SES Solar Co-op's 168 members and a volunteer director of the board.
Praski's interest in renewable energy began long before 2014.
The 1970s energy crisis, followed by the 1980s oil glut, informed a school project in 1984.
"Running out of fuel was the issue back then and we did some green energy projects, solar and spinning a turbine with a garden hose and things like that, to make some electricity," said Praski.
"So I guess it stuck with me."
Now, working as a clean energy consultant, Praski says the "timing is right" to employ green energy.
"It's something that we need to do, especially as one of the worst polluting places on earth per capita."
Five years ago, he and wife Sheri Praski, also an engineer, installed 14 solar panels on their home on an acreage east of Saskatoon.
When the co-op formed, they bought a share in it, too.
The Saskatoon co-op uses local businesses' rooftops as mini solar farms.
Its first project was installed on the roof of the TwoTwenty building last June.
The second, a partnership with the city Landfill Gas Generation Station, was unveiled in April.
The third, at Montgomery Agencies' building at 615 Haskamp St., is a work in progress.
The co-op requires a $50 membership fee and sells shares at $950 each. The largest investor has 11 shares. The 168 members have financed $400,000.
They will eventually be paid dividends on their investment. Members can sell their shares any time, or agree to a term.
The co-op owns the panels and leases them to the building owners for the same price as the power they're saving.
"They get the PR benefit out of it," said Praski.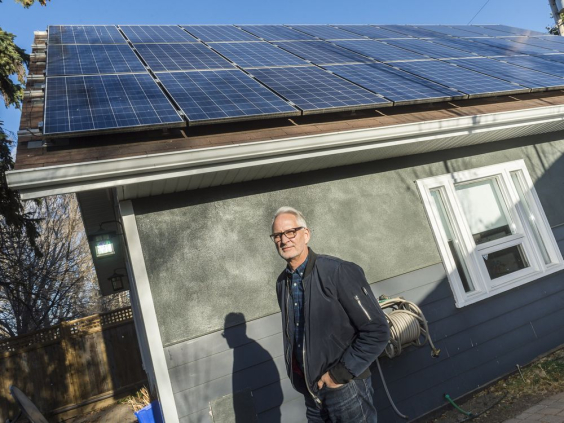 Regina's co-op will likely look a bit different.
A combination of large- and small-scale solar production would ultimately make the most sense, Josh Campbell told the 25-ish people who attended the Regina Solar Co-op's second meeting in early November.
That way, renters or condo-dwellers — people who can't install solar panels on their homes — could have an opportunity, similar to the Saskatoon co-op's model.
But the main goal of Regina's co-op is to have solar panels installed on individual homes, using group-buying power to negotiate a lower price with a solar energy company.
It plans to create a request for proposals next month, then have its first installations underway by April, with a second phase of installations organized prior to November.
Group buying would ideally reduce the "soft costs" of installation — specifically, educating customers and answering their questions.
That's why Hall's main advice for his audience was: Become energy literate and educate yourself.
Then: Be in a position to finance the solar energy system by March 2018.
It's no small investment.
For the 28 panels Hall installed on his garage roof three years ago, he paid $23,000 after a $5,000 SaskPower rebate.
He took out a loan to finance it, which he now pays back monthly with four per cent interest. His total bill last month was $173, $28 of which accounted for a SaskPower administration fee and taxes, because he's still on the grid.
Before he switched to solar, his power bills were around $186 per month. By now, with four rate increases since his panels were installed in December 2014, Hall's power bill would be $212 each month.
At the end of the 25-year loan, Hall will own his solar panels and will essentially have free power.
"It's kind of like buying real estate; it'll eventually pay for itself and make you money after that," Praski explained.
In the meantime, Hall is "virtually immune" to SaskPower rate hikes.
The Crown Corporation is seeking a five-per-cent increase next year, with more to follow in the next decade as it upgrades its aging infrastructure.
Hall noted another benefit to owning a solar system: It has added resale value to his home.
Per a 2015 study by the U.S. Department of Energy's Lawrence Berkeley Laboratory analyzing 22,000 home sales in eight states, homes with solar panels sold for about $4-per-watt more. In Hall's case, that would work out to $30,600 value added, or $7,000 more than he paid for the system.
There's no way to make money from generating extra power. Policy doesn't allow it.
—
SaskPower's net metering program comes with a one-to-one credit. If a customer generates more power than he uses, the electricity goes back onto the grid and he gets a credit on his power bill for the same rate as power is purchased.
For solar customers, the balance zeroes in March or April, to allow customers to use credits in the winter months that they build up over the summer.
For wind customers, the balance zeroes in August or September.
But the program is under review. So is the small power producers program, another SaskPower program that incentivized customers to generate their own power. It was suspended in September.
It allowed customers to sell back a maximum of 100 kilowatts of renewable energy to SaskPower.
"We're taking a look at it to determine whether the program is still cost effective for the people who are in it," said Doug Opseth, SaskPower director of generation asset management, "in order that we can ensure we're providing equal opportunities for all of our customers to participate in it, and ensuring that we still maintain a safe electrical system for our customers."
He said the company will have a recommendation early next year.
The net metering program, as it is, offers no monetary incentive to customers who generate their own power. If they plan a power system to accommodate their household's power usage, then overproduce, they're unlikely to ever use their credit.
Hall said it doesn't bother him that much that he loses his surplus on April 1.
learn more
---